I had the pleasure of Interviewing Gadi Hus, DOO at Volico, about the company and its history, product offerings, and future industry trends.
[Bart] Tell me a little bit about yourself, your background, and how you got started in the industry?
As Director of Operations (DOO), I'm responsible for leading the development and execution of the Company's long-term, short-term strategies, and plans. My leadership role also entails being ultimately responsible for all day-to-day management decisions executed by the senior-level teams across all facets of the organization. These management decisions facilitate direct communication with Structural, Electrical, Mechanical, Physical Security Engineers and Contractors regarding all aspects of the Data Center Infrastructure, Preventative Maintenance, and ongoing improvement projects. 
My background is forged from an entirely different industry. My educational background stems from a Biochemistry and Molecular Biology program from the University of Miami, Miller School of Medicine. Precursory to the University of Miami, I conducted research on subterranean termites through the University of Florida and USDA (United States Department of Agriculture.) With that said, I have enjoyed working with computers intrinsically from the young age of 6-7 years old. Starting with a Commodore 64 and Assembling my first 80286 SX PC shortly after, I grew more fascinated with the industry. The world of connecting and ultimately hosting a 6-Line BBS system at home forever forged my passion for the internet to come. In high school, I found myself working graveyard shifts at an up and coming datacenter facility. With high ambitions, Two close friends and I decided that we will start a Shared Web-hosting Company as a hobby. We wanted to offer superior website design and SEO along the way. VOLICO was born. With the clientele growing, my ability to juggle time and space between Medical School and this "hobby," a decision was made to pursue the VOLICO route full-time and see where it takes me. 20+ years later, VOLICO is still strong and kicking. We plan on making 2021 the best year yet, with some amazing announcements coming soon.
[Bart] What is the back story behind Volico? How did it get started?
Formed by a group of experienced senior network engineers in 2000, Volico has grown to become one of the most reliable colocation hosting providers nationwide. Built from the ground up, Volico has earned a reputation for attention to detail with a commitment to the latest data center technologies and innovations.
With a vision of delivering a fully integrated trusted hosting environment, Volico's certified staff and high-profile product partners can provide enterprises with cost-effective and dependable hosting services. Whether as a primary service provider or business continuity/disaster recovery partner, discover how Volico can help you support your business today for tomorrow.
The Volico Network Operations Center is manned 24/7/365 with knowledgeable, certified, and experienced network technicians that actively monitor infrastructure, connectivity, and application layer responsiveness. Any event immediately triggers a response from the on-duty personnel in accordance with Volico's SLA. Lastly. We also provide technical support and engineering offloading for customers that need to concentrate on their day to day instead of worrying about their infrastructure.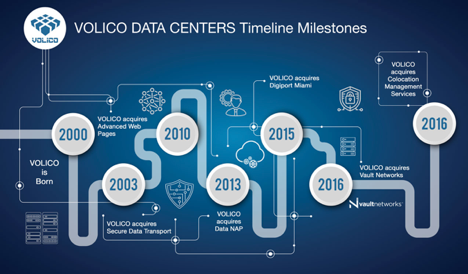 [Bart] You provide colocation services but it's not traditional colo – ping, power, pipe. How is your colocation offering different than the competition?
While there are many differentiators that set Volico aside, thinking outside the box has to be the zenith of them all. Working one on one with clients to understand their business model, pains, gains, and deficiencies allow Volico to offer custom-tailored support services beyond the traditional Rack and Stack. We can support clients from an IAAS basis, application-level, and even down to the KERNEL level execution layer. Volico offers IAAS via dedicated bare-metal services allowing us to stock server hardware in case clients need an emergency hard disk replacement, memory upgrade, or an entire cluster of servers. Most data centers today will only flip a switch for a reboot and do not have the level of support we provide that makes all the difference in the world to businesses.
[Bart] We were talking before the interview about managed services. I thought it was really interesting. Can you elaborate? Hard drive swap, private cloud, dedicated servers… 
Many data center providers offer managed services, but these services are often outsourced to third parties. Volico is different because we hire and train our own staff for customer support and managed services. Clients are able to pick up the phone; call in; and speak directly to their support team that is intimately familiar with their infrastructure.
Volico sets itself apart from traditional colocation and cloud facilities, by offering suites of Data Center Managed Services to help customers to manage their equipment and applications. Whether you need Smart Hands to troubleshoot a failed disk array remotely or need advanced services such as Active Directory, VPNs, Managed Backup Solutions, or just need to speak to one of our engineers, we have your business covered.
By choosing our Managed Services, you'll be taking advantage of our years of experience in the field, complete with a 24x7x365 on-site personalized support that will always be available to assist you.
[Bart] Where are you seeing the most demand right now in terms of data center markets and your facilities specifically?
This is a really open-ended question today. Due to COVID-19, we are seeing a trend of more data, faster data, and more security. We have seen Law firms increase bandwidth commits. We have seen enterprise clients migrate more infrastructure from their offices to facilitate work from home. We have seen clients looking to save money by migrating away from public cloud environments that nickel and dime the clients at every possible way. Managed Backups has seen a wide growth lately with the rise of crypto-lock attacks. The list goes on. 
[Bart] What are you seeing in terms of demand for services? Is it more colocation or private cloud, dedicated servers, bare metal?
This is also a really open ended question. The demand for services are directly proportional to the clients' level of application complexity. Some clients are good with a bare metal server running a Linux, Unix, or Windows OS. Some clients have recently been interested with Apple's new M1 ARM based CPU chips. One of the main things we elaborate to clients about the differences with colocation, dedicated servers, private clouds, and public clouds is the directly proportional cost increase due to the complexity of the services and the inverse relationship of offsetting delegation and accountability. 
[Bart] Tell me a little more about your colocation facilities? What sets them apart? Is it location, connectivity, tier rating…?
Volico opened its first owned data center facility in 2006 out of a simple necessity. While we understand that Murphy's law is inevitable, we also understand that one can make great efforts to minimize any and all risk factors. Volico prides itself on engineering a facility that minimizes risks without compromise. We can talk about how our Electrical, Cooling, and Network services are all built around a 2N+X. We can talk about our unique AI-based optimized network architecture that spans the entire South Florida market, Atlanta, and Chicago. We can talk about our Tier4 rating. At the end of the day, what sets us apart is simple. Humans. The Volico Team is what sets us apart.
[Bart] What are your customers collocating these days? What is the main driver for purchasing colocation space? Disaster recovery, private cloud, compliance…
Clients are colocating servers, storage, hyperconverged, firewalls, switches, routers, etc. You name it, we have most probably seen it. Different clients have different driving factors as to why they are using data center services. We enjoy working with the full spectrum of clients and their hosting needs. Big or small. 
[Bart] What's in store for the future of Volico? New product launches, data center expansion, new facilities?
Volico is currently in expansion mode. We have completed a new white space corridor at our flagship location in Fort Lauderdale. Furthermore, we are working with engineers of all the gametes to continue and increase our resiliency via new technologies and automation. We are also in the midst of launching our new API based public cloud platform allowing for clients to directly integrate their CI (continuous integration) platform to command and control every aspect of their IAAS with Volico ranging from Colocation, Cloud, or a hybrid of the two.
[Bart] Where do you see the data center industry going in the future? Where will demand come from? Is it future tech like Ai/ML, IoT and streaming? Would love to get your thoughts on it all…
The future is now. While a cliche, Volico prides itself on innovation in the marketplace. We also pride ourselves in continuously updating and upgrading our infrastructure allowing us to provide clients with cutting-edge services. We have custom engineered and built embedded IOT devices throughout the facility allowing for granular prediction based tracking and alerting. If you would like to know more; schedule a tour, and you can see where your infrastructure is now compared to where it could be in the future with us.
[Bart] Is there anything else you want to mention? What's on your mind?
We are trying to raise awareness with our partners about complacency. Meaning, many MSPs and IT departments become complacent with their day to day routines never thinking once that it can ALL be turned upside down in a split moment due to an oversight. With this in mind, we work hard to partner with our clients to allow them to concentrate on their Day to Day so things do not fall through the cracks. We also understand that when these scenarios happen; the client immediately goes into panic mode. This has been a forefront for some of our recent migratory clients that were hosted in the Hyper-Scale Public cloud datacenters. Unfortunately, while they present instant point and click deployments, they are expensive, quirky, and have little to no one to talk to when it comes to support.