AT&T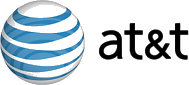 AT&T Inc. is an American multinational telecommunications conglomerate, headquartered at Whitacre Tower in downtown Dallas, Texas. AT&T is the world's largest telecommunications company. AT&T is the second largest provider of mobile telephone services and the largest provider of fixed telephone services in the United States, and also provides broadband subscription television services through DirecTV; combined with AT&T's legacy U-verse service, this also makes AT&T the largest pay television operator.
AT&T provides access to colocation services with enhanced connectivity, so you can take the next step in your cloud transformation. Our colocation ecosystem connects you to over 350 facilities across 24 countries worldwide so you can enjoy greater agility and increased efficiency, all within the protection of a highly secure data center environment.
Global Reach
Access to 350+ facilities world-wide
Cloud Interconnectivity
From your IT infrastructure to leading cloud providers and SaaS applications.
Greater Efficiency
Performance with enhanced prebuilt AT&T network connectivity in many data centers.
Scalable Infrastructure
Ability to expand your data center footprint while enhancing connectivity to myriad cloud and network service providers and other business partners.