Data Foundry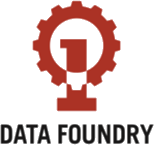 When it comes to data center colocation, we aren't about setting it and forgetting it. Our staff provides data center services with a consultative approach to help our customers become more competitive, efficient and agile. We employ highly skilled, specialized in-house professionals (not contractors) that allow us to offer a variety of services with a higher level of customer service than our competitors can provide. Hundreds of companies rely on our data centers and staff to keep their mission critical systems online at all times. In addition to colocation and disaster recovery, we facilitate hybrid infrastructure models by supplying our customers with direct access to major cloud providers. Browse through our services and submit a request for more information to get in touch with one of our subject matter experts.
We Have the Right Skills
We Employ a tenured and knowledgeable workforce, our own onsite electricians, network engineers, security staff, data center technicians and NOC technicians. We do not hire third-party contractors.
We're Service-Focused
We understand the need for responsive, expert, always available, hands-on support 24x7x365.
We're Stable and Independent
We have a 20+ year profitable operating history which is unique in our industry. We take the long-term view and aren't "built to flip." Our customers are our first priority.
We're Purpose-Built
We maintain our own in-house construction team for building data centers. The most reliable data centers are ones that we can control from the roof to the conduits below the foundation.