Pars Online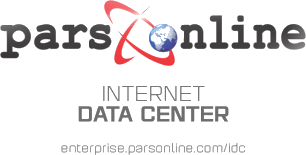 As the largest provider of Internet services and local/global network connections in the Iranian private sector, Pars Online Group has been remarkably successful in presenting a wide range of efficient and effective services to users all over the country. Since the establishment on 1999, Pars Online has been providing diverse solutions for internet access, international telephone calls, Virtual Private Network, Dedicated Bandwidth, Satellite Services (VSAT) and Internet Data Center services including:
and many more, are among the most important activities and services provided by Pars Online Group of Companies.
Pars Online Data Center is one of the very first privately owned data centers in the Middle East. The data center is an N+1 redundant site and houses two large scale sites with thousands of physical servers running and ten-thousands of virtual servers.
99.99% Uptime
Utilizing the world class expertise of highly skilled experts, all servers are monitored 24/7 in a 3-Layer Network Operations Center.
N+1 Redundancy
Cooling, Network, Dark Fibre Connection, Power backup in place in order to support any unexpected failure.
Security
Topmost component, software and premises security using bio-metrical authentication systems.
Standard Cooling System
Efficient HVAC and temprature monitoring system using the Hot-Aisle and Cold-Aisle Layout and ASHRAE standard.