SIfy Technologies Limited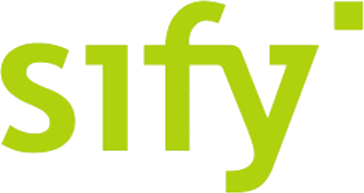 Sify is among the largest integrated ICT Solutions & Services companies in India, offering end-to-end solutions with a comprehensive product range delivered over a common telecom data network infrastructure, reaching more than 1400 Indian cities & towns. This network connects 38 Data centers in India, including Sify's seven Data centers across Chennai, Mumbai, Delhi , Bengaluru & Hyderabad.
A significant part of Sify's revenue is derived from Enterprise Services, comprised of Telecom services, Data center services, Cloud & Managed services, Application services & Technology Integration services. Sify provides services that cater to the burgeoning demands of the SMB/SOHO community.
Sify is ISO 9001:2008 certified for Enterprise Sales, Provisioning, Support & CRM of ICT Solutions & Services like VPN, Network, Voice, Data center hosting, Integration services, Security services & Managed services. Sify is certified in ISO / IEC 20000 - 1:2011 & ISO/IEC 27001:2005 certified for Internet Data center operations. Sify is certified in SSAE16 SOC2 Type II for Cloud Infrastructure & in TL 9000 for Enterprise Network Services, Network Integration Services including Design, Implementation & Support services. The latter certification is telecommunication industry's quality system standard that expands the requirements of the International Standards Organization's ISO 9000 quality management standard in use by industries worldwide. Sify has licenses to operate NLD (National Long Distance), ILD (International Long Distance) services & ISP services and offers VoIP backhaul for international carriers.
The company has an expanding base of Managed Services customers, both in India & overseas & is India's first Enterprise Managed Services provider to launch a Security Operations Center (SOC) to deliver Managed Security services. Sify also offers services in the specialized domains of eLearning, both in India & globally.