Switch Data Centers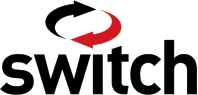 Switch is recognized as the independent world-leader in exascale data center ecosystems, edge data center designs, industry-leading telecommunications solutions & next-generation technology innovation.
We believe that the future of humanity depends on the intelligent and sustainable growth of the Internet. As more people, businesses, governments and devices come online, the need for reliable data centers powered by renewable energy increases. Powered by 100% renewable energy, Switch's focus on sustainability and efficient technologies make our exascale ecosystems the most sustainable and cost-effective colocation environment in the industry.
The Switch ecosystem empowers our clients with a myriad of options for innovation, economies of scale, risk mitigation, sustainability and investment protection.
SWITCH Edge Data Centers
Switch EDGE is Switch's Class 4, system + system, fully air-transportable exclusive edge data center product.
SWITCH Storage
The Switch VAULT data center sectors will be the first offering of Tempest-Rated, private and public cloud accessible physically secured cloud storage environments.
SWITCH Robotics
Switch SENTRY is an advanced fully autonomous robot backed with the reliability of 24/7 human-in-the-loop monitoring.