Enzu Disaster Recovery Buyer's Guide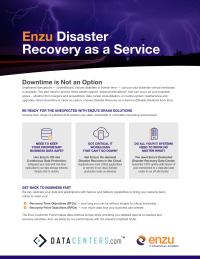 When downtime is not an option, turn to Enzu DRaaS.
Unplanned disruptions - cyberattacks, natural disasters or human error - can put your business-critical workloads in jeopardy. Download this disaster recovery (DRaaS) buyer's guide from Enzu to learn how you can protect you most valuable business technology assets.