Data Centers: Jobs and Opportunities in Communities Nationwide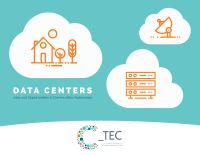 With 6 million jobs and 2.5 million job openings, America's technology sector is driving economic growth, expanding global dominance in innovation and entrepreneurship, and putting Americans to work. Without data centers, we can't power the innovations to keep our economy moving.
Technological innovations are rapidly changing our lives, our businesses, and our economy. Technology, no longer an isolated business sector, is a facilitator enabling innovation, growth, and the strengthening of America's traditional business sectors. From transportation and energy to finance and medicine, businesses rely on technology to interact with their customers, improve their services, and make their operations more globally competitive. Innovative technology is deeply integrated into the economy and is the driving force behind the creation of new jobs in science, health care, education, transportation, and more. Technology has fundamentally transformed our economy—and is poised to fuel even more growth in the future.