Disaster Recovery Planning Template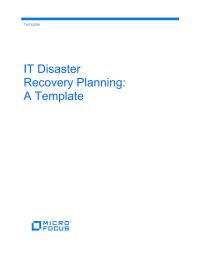 A goal of business planning is to mitigate disruption of product and services delivery to the greatest degree possible when disruption due to disaster occurs. Business continuity is the overarching concern.
An IT disaster recovery plan is the lynchpin of an overall business continuity strategy. And the purpose of business continuity is to maintain a minimum level of service while restoring the organization to business as usual. If a business fails to put a disaster recovery plan in place then, when disaster strikes, the company risks losing customers to competitors, losing funding and having the need for its products or services re-evaluated and deemed unnecessary.