Solving IT Challenges with CoreSite Hybrid IT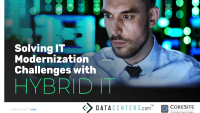 Over the last few years, many businesses have realized that "cloud-first" should not mean "cloud-only". As a result, savvy businesses are beginning to rethink their hybrid IT environments.
In 2011, the U.S. government announced its "cloud-first" policy, formally called the Federal Cloud Computing Strategy, in order to consolidate services spread across about 2,000 data centers.